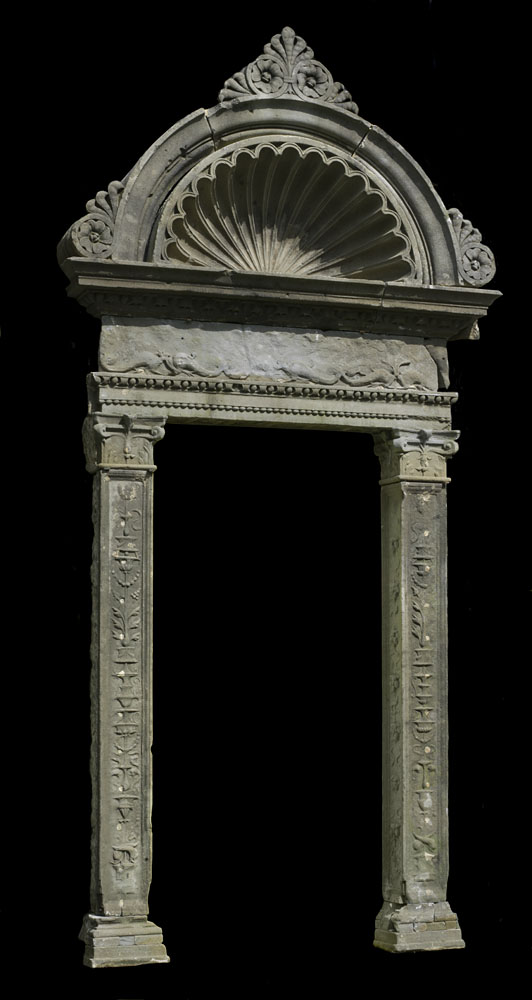 Stock No: 10719
A Renaissance stone door casement, carved in dark grey Pietra Serena stone. The elegant overdoor takes the form of a concave scallop shell, a motif derived from Roman sarcophagi, which later became a Christian symbol of rebirth, resurrection and pilgrimage. This suggests that the doorway was perhaps an entrance to a place of worship. Beneath this, stylised dolphins are carved nose to tail, undulating across the now weathered surface, worn after centuries of exposure to the elements. Supporting this are carved capitals and jambs decorated with urns and foliate details.

Northern/Central Italian, possibly Florentine. A very similar door is on display in the Victorian and Albert Museum's Renaissance Gallery.

Restoration not possible.

Link to: Antique Doors and Windows.
Listed Price: £10,500 restoration not possible.(+VAT where applicable)
width
height
depth
73 5⁄8"
187 cms
150 13⁄16"
383 cms
13 13⁄16"
35 cms
41 11⁄16"
106 cms
86 13⁄16"
220.5 cms